The Utah Policy newsletter is your one-stop source for political and policy-minded news. We scour the news so you don't have to! Send news tips or feedback to Holly Richardson at editor@utahpolicy.com.
Situational Analysis | February 10, 2023
Good Friday morning to ya. It's National Cream Cheese Brownie Day, the perfect treat for Super Bowl Sunday, doncha think? Will you be watching?
Also, happy Women's Suffrage Day in Utah! On this day in 1870, a bill allowing women to vote passed the territorial legislature unanimously (50 years before the 19th Amendment was ratified.)
What You Need to Know
Today on the hill, SB192, Medicaid Doula Services, will be heard in the Senate Health and Human Services committee; SB183, which would increase teacher salaries by the same percentage that the WPU increases, will be heard in the Senate Education committee and the first big tax bill - a proposal to amend the Utah Constitution to require that 45% of residential property value be exempt from property tax - will be heard in the Senate Revenue and Taxation committee.


Yesterday, HB284, Public Library Background Check Requirements passed unanimously; a bill to look at moving the state hospital was held and a bill addressing investigative searches for genetic information was held in committee and will be back on the agenda Monday.
Rapid Roundup

Together, We Can Better Support Women in Business
Whether you're a woman starting a business or looking to elevate your career, Inspire In Utah is dedicated to providing you with the resources to help on your journey. Find funding, training, and even inspirational stories in our dedicated resource center.
National Headlines
General
Politics
Ukraine 🇺🇦
World
News Releases
Joint statement on behalf of the agencies addressing the needs of those experiencing homelessness in Salt Lake County
As Salt Lake City welcomes the NBA All-Star Weekend, state, county, city and homeless service providers have come together to provide opportunities for community connection for people experiencing homelessness and address the health and safety implications that arise from a large-scale event expected to draw 100,000 visitors. (Read More)
---
Romney, Van Hollen introduce bill to end China's unfair international advantages
U.S. Senators Mitt Romney (R-UT) and Chris Van Hollen (D-MD) today introduced the Ending China's Developing Nation Status Act, bipartisan legislation to prevent the granting of "developing nation" status to China in future treaties and international organizations. This bill also directs the Secretary of State to pursue changing the status of China to "developed nation" in treaties or organizations where a mechanism for change exists. Romney first introduced this legislation at the end of last Congress. (Read More)
---
Romney: The administration must move beyond principles and develop comprehensive China strategy
At a Foreign Relations Committee hearing today,U.S. Senator Mitt Romney (R-UT) urged the Administration to implement his legislation, which was co-sponsored by Foreign Relations Committee Chairman Bob Menendez (D-NJ) and enacted as a part of the in the National Defense Authorization Act (NDAA) for Fiscal Year 2022, requiring the U.S. to develop a comprehensive strategy to counter the China threat. Romney and Foreign Relations Committee Ranking Member Jim Risch (R-ID) previously urged the Administration to begin the process of implementing this legislation. In their November letter, they requested an update on the progress after 60 days, which has just passed. (Read/Watch More)
Number of the Day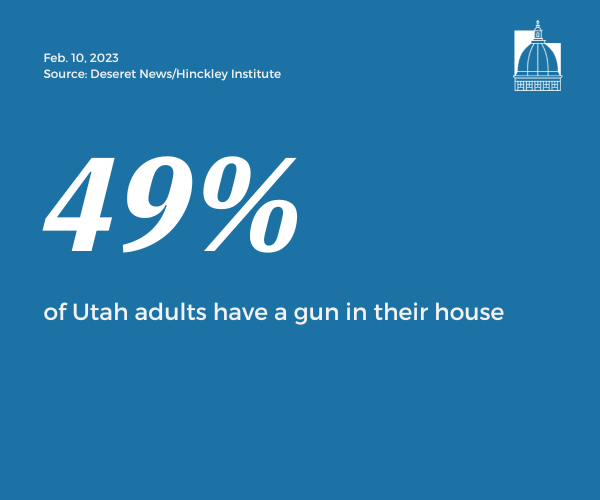 On This Day In History
1763 - The French and Indian War ends.
1846 - Mormon exodus begins, leaving Nauvoo and heading to the Rocky Mountains.
1870 - The Utah Territorial Legislature passes a bill allowing women to vote and they do it unanimously. Go, Utah!
1883 - Edith Clarke is born. She became the first woman to earn an M.S. in electrical engineering from MIT (1919), first woman professor of electrical engineering (1947), and she invented the Clarke Calculator, a graphical device for solving power transmission line equations.
1907 - Grace Hamilton is born. She was the first African-American in the Deep South's state government, serving in the Georgia General Assembly from 1966-84 and is credited with Andrew Young's victory in Georgia's Congressional election in 1980.
1957 - Laura Ingalls Wilder died
1957 - The Southern Christian Leadership Conference (SCLC) is founded. Martin Luther King Jr. invited about 60 black ministers and leaders to Ebenezer Church in Atlanta where they organized the SCLC. King served as the first president.
1964 - The US House passes the Civil Rights Act of 1964
1989 - Attorney Ron Brown was elected chairman of the DNC, the first Black person to hold the post. He later became the Secretary of Commerce. He died in 1996 when the plane he and 32 others were in crashed while on a diplomatic mission in Croatia.
1992 - Famed author Alex Haley dies.
1996 - Garry Kasparov loses the first game of a six-game match against Deep Blue, an IBM computer. However, he ended up winning overall, with 3 wins and 2 ties.
2011 - Jerry Sloan resigns as head coach of the Jazz.
2014 - Shirley Temple dies at age 85.
2020 - More than 30 bushfires put out by heaviest rainfall for 30 years in New South Wales, Australia, helping end one of the worst bushfire seasons ever, 46 million acres burnt, over 1 billion animals killed, 34 people dead
---
Heard on the Hill
"We've rode this horse for quite a long time. It's tired and I'm tired."
—Rep. Carl Albrecht, speaking on a water bill
---
On the Punny Side
What do you call two birds in love?
Tweethearts!
Subscribers may receive special messages with information about new features, special offers, or public policy messages from clients and advertisers.