The Utah Policy newsletter is your one-stop source for political and policy-minded news. We scour the news so you don't have to! Send news tips or feedback to Holly Richardson at editor@utahpolicy.com.
Situational Analysis | February 17, 2023
Good Friday morning to you! It's National Caregivers Day and National Random Acts of Kindness Day - please do something nice for a caregiver you know.
Enjoy All-Star weekend and President's Day. The legislature won't be meeting on Monday, so I'll be sleeping in. Look for Utah Policy in your inboxes Tuesday morning.
What You Need to Know
Yesterday, Governor Cox held his monthly news conference. He discussed tax cuts (final revenue numbers are expected to be announced Tuesday), abortion, "magic mushrooms," All-Star weekend, air quality, water conservation, the Great Salt Lake and the 2024 election.


Yesterday, HJR18, a proposal to amend the state constitution to change the limit on annual distributions from the State School Fund from 4% to 5%, HB332, Fallen Officer Memorial Scholarship Program, and SB133, a bill to expand Medicaid coverage for postpartum women all passed out of committee.


Today in the House Transportation Committee, a bill on railroad drones is scheduled to be heard, HB322, Budget Reporting Requirements will be heard in the Senate Rev & Tax committee and a bill changing water wise landscaping requirements will be heard in the House Natural Resources Committee.
Rapid Roundup
2023 Legislative Session
31 days down, 14 days to go!
---
Today
---
Tuesday
8:00-9:50 am: House committees: Judiciary; Government Operations; Political Subdivisions; Revenue & Taxation
8:00-9:50 am: Senate committees: Business & Labor; Education; Health & Human Services
10:00-12:00 pm: House floor time
10:00-11:50 am: Senate floor time
2:00-3:50 pm: House floor time
2:00-3:50 pm: Senate floor time
4:00-6:00 pm: House committees: Business & Labor; Education; Health & Human Services; Economic Development & Workforce Services
4:00-6:00 pm: Senate committees: Judiciary, Law Enforcement & Criminal Justice; Natural Resources, Agriculture & Environment; Transportation, Public Utilities & Technology
---
Utah Headlines
General Legislative News
Other political news
NBA All-Star Weekend
General Utah news
Linda King Newell, groundbreaking Emma Smith biographer, and a 'giant' in Mormon scholarship, dies at 82 (Salt Lake Tribune)
The Latter-day Saint ghost town that keeps emerging from Lake Mead (Deseret News)
'We'll get the Games back,' in 2030 or 2034, U.S. Olympic leader pledges during Utah visit (Deseret News)
Environment
Health
Irregular sleep patterns could put your heart health at risk. (Deseret News)
Utah Department of Health and Human Services apologizes for 1925-1974 sterilization program (ABC4)
National Headlines
General
Politics
Ukraine 🇺🇦
World
News Releases
Utah Senate and House Majority announce tax relief proposal for Utahns
Over the past two years, the Utah Legislature has reduced taxes by nearly $300 million. To continue Utah's commitment to reducing taxes and cultivating a family and business-friendly environment, the Senate and House Majority Caucuses propose an additional $400 million in tax relief for Utahns. (Read More)
---
Lee introduces balanced budget amendment
Sens. Mike Lee (R-UT) and Chuck Grassley (R-IA) introduced an amendment to the United States Constitution requiring the federal government to balance its budget each year. Sen. Lee has consistently advocated for binding, structural spending reforms embedded in a constitutional amendment. (Read More)
---
Romney, Hickenlooper, Barrasso reintroduce Bill to more accurately measure student success at community colleges
U.S. Senator Mitt Romney (R-UT), joined by Senators John Hickenlooper (D-CO), and John Barrasso (R-WY), today introduced the Graduation Reporting for Accuracy and Decision-Making (GRAD) Act, bipartisan legislation that would improve transparency and inform the decision-making of prospective students by ensuring the reporting of graduation rates accurately reflect the success of community colleges. The senators first introduced the GRAD Act last Congress. Text of the legislation can be found here. (Read More)
---
Romney: We must address the widespread nursing shortage in this country
Today, at a Health Committee hearing, U.S. Senator Mitt Romney (R-UT) discussed the widespread shortage of health care workers in the United States, which has been exacerbated by an overwhelming backlog of immigration interviews for nurses and doctors overseas—primarily from the Philippines. He urged the State Department to resume its pre-COVID operations to allow more internationally trained health professionals to immigrate to the U.S. for work to help address widespread nursing shortages. Romney also highlighted Utah's Western Governor's University—which graduates more nurses than any other institution in the country—as an example of what other schools can be doing to train more nurses, for a reasonable cost. (Read/Watch More)
Number of the Day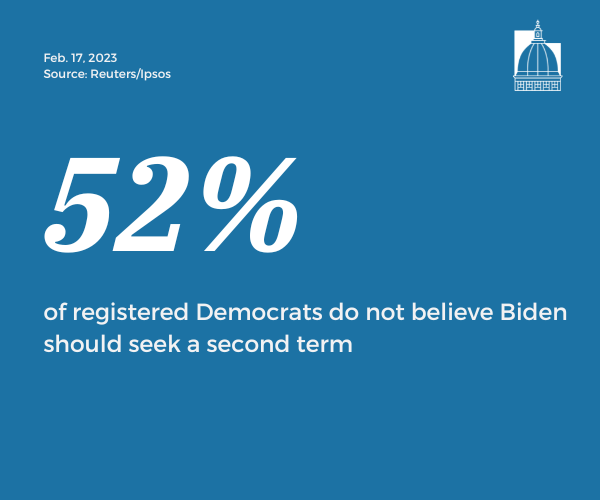 On This Day In History
624 - Wu Zetian, the only female Chinese emperor in history, is born.
1621 - Myles Standish is elected as the first commander of the Plymouth Colony.
1801 - Thomas Jefferson is elected 3rd president of the US, after a very acrimonious campaign against Aaron Burr.
1820 - The U.S. Senate passes the Missouri Compromise.
1912 - Alice Mary Norton is born. She wrote under the pseudonym Andre Norton because she thought it would be more salable in science fiction and fantasy and later legally changed her name to Andre Alice Norton. She also used the pseudonyms "Andrew North" and "Allen Weston."
1963 - Michael Jordan is born.
1972 - President Nixon leaves DC for an historic trip to China.
1996 - Garry Kasparov defeats IBM computer "Deep Blue" 4-2.
2021 - Rush Limbaugh dies of lung cancer at age 70.
---
Heard on the Hill
"I just don't believe the science is there. I don't believe we should be experimenting on 5,000 people here in our state. And I think there are some serious consequences and side effects societally as well as medically that I'm not just comfortable with."
—Gov. Cox, speaking on "magic mushrooms"
---
On the Punny Side
Last night, I dreamed I was swimming in an ocean of orange soda.
But it was just a Fanta sea.
Subscribers may receive special messages with information about new features, special offers, or public policy messages from clients and advertisers.