The Utah Policy newsletter is your one-stop source for political and policy-minded news. We scour the news so you don't have to! Send news tips or feedback to Holly Richardson at editor@utahpolicy.com.
Situational Analysis | February 21, 2023
Good Tuesday morning and Happy Mardi Gras! It's also National Pancake Day! Party party 🎉
And in case you haven't heard, a major winter storm is on its way into Utah today - be safe out there.
Finally, big condolences to Rep. Christine Watkins whose husband passed away this weekend. 😢
What You Need to Know
Jimmy Carter, age 98, has entered hospice care at home. The former president who usually rates a "meh" on presidential rankings, but high on "moral authority," writes Jennifer Graham, has lived an exemplary post-White House life. Boyd Matheson shared that a speech that Carter gave in 1979 is every bit as applicable today, when Carter spoke of a "fundamental threat to American democracy." That threat, Carter said, was a "crisis of confidence." Carter shared advice he got from a citizen:

"We've got to stop crying and start sweating, stop talking and start walking, stop cursing and start praying. The strength we need will not come from the White House, but from every house in America." He walked the walk.

President Carter is well-known for his volunteer work with Habitat for Humanity, showing up to a job site

with a black eye and 14 stitches after taking a fall - at age 95. He is also known for the incredible work with the

Carter Center

, the organization he set up to "wage peace, fight disease and build hope." The Carter Center is responsible for the almost-total elimination of the guinea worm, a horribly painful parasitic infection that affected an estimated

3.5 million people

in 20 countries worldwide in the mid 1980's. Last year,

that number was 13

.




On this President's Day weekend, President Joe Biden went to Kyiv to meet with President Zelenskyy in person. Biden's surprise visit to Ukraine was the first time in modern history that a US leader visited a warzone without the US military. "I thought it was critical that there not be any doubt, none whatsoever, about U.S. support for Ukraine in the war," Mr. Biden said. Biden then returned to Poland where he is meeting with President Andrzej Duda, and is expected to give a speech on the war in Ukraine later today. Putin gave his "State of the Union" address on Tuesday, blamed NATO and the US for the war, readied Russians to prepare for a long war, and then pulled out of the last remaining major nuclear treaty with the US. In the meantime, Russian forces shelled a busy bus station in Kherson.


Busy day on Utah's Capitol Hill today: tax policy discussions will include a bill to remove the tax on food, but it's contingent upon removing the constitutional earmark for education; a bill to eliminate signature gathering will be heard in House Government Operations and a bill addressing Utah's Inland Port will be heard in the Senate Business and Labor Committee.
Rapid Roundup

Together, We Can Better Support Women in Business
Whether you're a woman starting a business or looking to elevate your career, Inspire In Utah is dedicated to providing you with the resources to help on your journey. Find funding, training, and even inspirational stories in our dedicated resource center.
2023 Legislative Session
34 days down, 11 days to go!
New revenue numbers are expected today.
---
Today
---
Tomorrow
---
Utah Headlines
General Legislative News
Other political news
When it comes to policing Big Tech, Utahns say feds, not state lawmakers, should be in charge (Deseret News)
Romney, outspoken about his own party, weighs reelection run (AP)
NBA All-Star Weekend
General Utah news
Business
This quiet Utah company has become a global life sciences software leader worth $1.3 billion. MasterControl builds software that ensures the quality and safety of pharmaceuticals and medical devices for companies all over the world (Deseret News)
Work is important, but it's not family. Companies are trying to build family like cultures, even while laying people off (Deseret News)
Education
Environment
Housing
National Headlines
General
Ukraine 🇺🇦
Ukraine's unlikely wartime leader, Zelenskyy instill hope (AP)
Ukraine's year of pain, death —and also nation-building (AP)
World
Guest opinion: An open letter to Utah legislators re: HB215
by Teri Rhodes, President, Cache County School Board; Pres. Elect, Utah School Boards Assoc.
I've heard that the Legislature is confused about the less than positive response from teachers over the passage of HB215. Perhaps you should know how the majority feel about that. It's like the Legislature offered them a Twinkie as a diversion while you punched them in the gut. Our support staff feels even worse–they didn't even get a Twinkie! What they heard with HB215 is "you are not educating our most at-risk students well, so we're going to take some of the funding that could have been yours and give it to a private company, so you have some competition. Maybe then you'll do a better job."
I believe one of the best kept secrets in the Utah Legislature is that local school board members are also publicly elected officials AND we share the same constituents with Legislators. However, I argue that we are closer to our shared constituents than Legislators because we are in their schools daily, engaging with their most precious belongings–their children. We sit with them in their school community councils, their PTA meetings, their school activities, assemblies and graduations. We celebrate with them and mourn with them personally. That's why we so often advocate for local control in legislation.
We appreciate WPU increases and a 5.5% increase in the WPU cannot equate to a 5.5% increase in teachers' salaries. The WPU must also pay for support staff wage increases, as well as heating, lighting, curriculum, technology, supplies, etc.–all necessary so teachers can teach well...
We just want Utah Public Ed funded ADEQUATELY to provide a liveable wage for our staff members as they provide a world class education for our students. We believe the Legislature should try a little harder to do a little better in constitutionally funded, and appropriated, public education funding for generations to come.
Number of the Day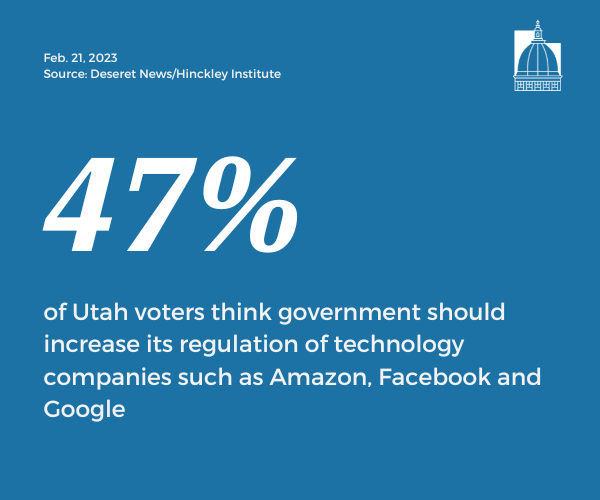 On This Day In History
1792 - US Congress passes Presidential Succession Act
1848 - Karl Marx publishes the Communist Manifesto.
1855 - Alice Freeman Palmer was born. She founded the predecessor organization to the American Association of University Women (AAUW) in 1881.
1885 - Washington Monument dedicated.
1916 - The Battle of Verdun begins - it will drag on for 10 brutal months and come to represent WWI.
1936 – Barbara Jordan is born. She served in the Texas state legislature 1962-72, was elected to the US House of Representatives in 1973 where she sponsored expanding the coverage of the Voting Rights Act and voted to impeach Nixon.
1940 - John Lewis is born.
1965 - Malcolm X assassinated by rival Black Muslims while speaking in the Audubon Ballroom in New York City
1970 - Henry Kissinger begins secret negotiations with North Vietnamese
1972 - Richard Nixon meets Mao Zedong.
2014 - President Barack Obama meets with the Dalai Lama
2018 - Billy Graham dies.
---
Heard on the Hill
"Utah is the only state in the nation that has these types of budget constraints. We can't remove the sales tax on food and continue to efficiently balance the state budget."
—House Majority Leader Mike Schultz
---
On the Punny Side
I accidentally sprayed deodorant in my mouth.
Now when I talk, I have this weird axe scent.
Subscribers may receive special messages with information about new features, special offers, or public policy messages from clients and advertisers.