The Utah Policy newsletter is your one-stop source for political and policy-minded news. We scour the news so you don't have to! Send news tips or feedback to Holly Richardson at editor@utahpolicy.com.
Situational Analysis | February 21, 2023
It's the day after Mardi Gras and that means it's Ash Wednesday, marking the beginning of Lent.
The big storm delivered and many school districts have moved to online learning, or delayed their start times. Salt Lake City School District, Murray School District, Granite School District, Tooele County School District, Jordan School District, Alpine School District and Canyons School District, have moved to online learning. Provo, Davis, Box Elder, Weber, Nebo, North Summit, USU's Tooele campus, North Star Academy, Pacific Heritage Academy, Canyon Rim Academy, Lehi Ascent Academy and the Layton and Ogden campuses of Northern Utah Academy for Math, Engineering and Science will have a two-hour delay.
The Utah legislature has also delayed its start this morning.
What You Need to Know
Gov. Spencer Cox and Gov. Eric Holcomb, from Indiana, penned an op-ed for the Washington Post saying that allowing states to sponsor immigrants would solve our national immigration crisis. "The standstill on immigration hobbles both parties and, more seriously, endangers America's long-term well-being," they write. They are supporters of "immigration sponsorship by the states," an approach that "would give states a dynamic means to attract new residents, both from a pool of new applicants from abroad and from the ranks of current asylum seekers."


President Biden gave a strong speech in Poland after his visit to Ukraine. "One year ago, the world was bracing for the fall of Kyiv. Well, I've just come from a visit to Kyiv and I can report Kyiv stands strong. Kyiv stands proud, it stands tall and most important, it stands free," Biden said. "President Putin's craven lust for land and power will fail. And the Ukrainian people's love for their country will prevail," he continued. He called Putin a "war criminal," a "pure thug" and accused Russia of 'crimes against humanity,' without "shame or compunction." "The defense of freedom is not the work of a day or of a year. It's always difficult. It's always important."


Today on the Hill: Medical 'magic mushrooms' will be heard in Senate Health and Human Services today; the religious school uniform bill will be heard on the Senate floor and a bill to ban schools from participating in sports if the athletic association does not collect and review athletes birth certificates will be heard in the House Judiciary committee.
Rapid Roundup
Yes, please! Samwise Gamgee (Ok, Sean Astin) will be speaking at RootsTech

Together, We Can Better Support Women in Business
Whether you're a woman starting a business or looking to elevate your career, Inspire In Utah is dedicated to providing you with the resources to help on your journey. Find funding, training, and even inspirational stories in our dedicated resource center.
2023 Legislative Session
35 days down, 10 days to go!
Morning committee times are delayed one hour.
---
Today
---
Tomorrow
---
Utah Headlines
General Legislative News
Other political news
General Utah news
Church settles case with SEC over financial reporting. Ensign Peak Advisors, Church of Jesus Christ agree to pay penalty to settle investigation (Deseret News)
Jay Evensen: Shaq and Barkley think we're boring. Who cares? Stereotypes about Utah are as immovable as the mountains, and yet the place keeps growing and prospering (Deseret News)
Business
United Airlines announces new family seating policy. The airline will allow families with children under age 12 to sit together at no additional charge. (Deseret News)
Idaho, Utah workers led U.S. in quitting jobs, while New Yorkers largely stayed put. People were confident enough to voluntarily leave their jobs more than 4 million times a month last year, up 20% from 2019 (Wall Street Journal)
Education
Family
Our teenage girls are suffering. Utah can lead the way in helping them (Deseret News)
Health
Baby formula shortage update: New recall, trio of investigations (Deseret News)
Housing
Utah ranks 45th in the country for affordable housing (KSL TV)
National Headlines
General
Politics
Ukraine 🇺🇦
World
News Releases
WSU professor curates exhibit featuring Latina artists
An art history professor at Weber State University is amplifying voices that are often forgotten within the art world.
María del Mar González-González is curating "Beyond the Margins: An Exploration of Latina Art and Identity," on display now through March 4 at the Utah Museum of Contemporary Art in Salt Lake City.
González-González and Nancy Rivera, a featured artist and WSU alum, will offer a guided tour and gallery discussion in Spanish on Feb. 25 from 1-2 p.m. (Read More)
Number of the Day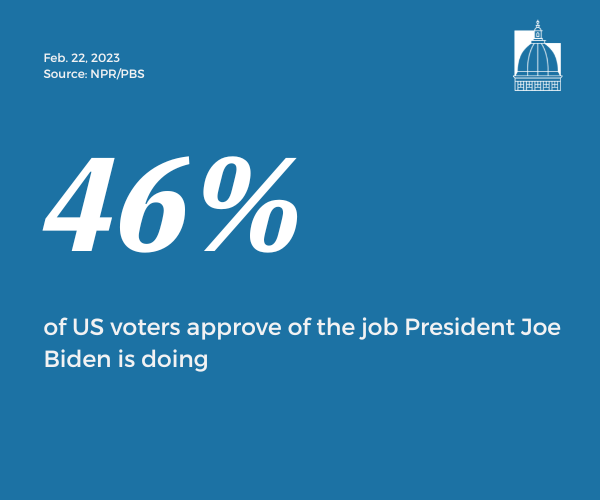 On This Day In History
1732 - George Washington is born in Virginia.
1819 - The U.S. acquires Spanish Florida.
1876 - Zitkála-Šá is born. A writer and Sioux Indian activist, she spent much of her adult life in Utah. She was instrumental in lobbying for citizenship rights for Native Americans and founded the National Council of American Indians. She is buried in Arlington National Cemetery.
1980 - U.S. hockey team beats the Soviets in the "Miracle on Ice."
1997 - Dolly the Sheep is cloned.
2014 - 'El Chapo,' the world's most-wanted drug kingpin, is captured in Mexico.
2021 - The US hits 500,000 lives lost to COVID-19.
---
Heard on the Hill
---
On the Punny Side
What do you get when James Bond takes a bath?
Bubble 07
Subscribers may receive special messages with information about new features, special offers, or public policy messages from clients and advertisers.