The Utah Policy newsletter is your one-stop source for political and policy-minded news. We scour the news so you don't have to! Send news tips or feedback to Holly Richardson at editor@utahpolicy.com.
Situational Analysis | February 27, 2023
It's Monday and World NGO Day - shoutout to all those helpers around the world.
It's the last week of the 2023 legislative session. Stay tuned as the legislature spends a record amount of money and passes hundreds of bills before adjourning sine die on Friday night.
Also, the latest snow storm has delayed school start times by two hours in Box Elder, Ogden and Weber school districts.
What You Need to Know
Rapid Roundup

Together, We Can Better Support Women in Business
Whether you're a woman starting a business or looking to elevate your career, Inspire In Utah is dedicated to providing you with the resources to help on your journey. Find funding, training, and even inspirational stories in our dedicated resource center.
2023 Legislative Session
40 days down, 5 days to go!

Only one more committee hearing for each subcommittee left.
---
Today
---
Tomorrow - last day of committee hearings and last day to consider bills from own house
---
Utah Headlines
General Legislative News
Other political news
Utah town with fewer than 500 people needs $8 million for water system upgrade (Fox13)
General Utah news
Education
A Utah school district is warning teachers they can't use sick time for a mental health break (Salt Lake Tribune)
Environment
Tooele records largest 24-hour snowfall on record with 23 inches (Fox13)
Family
How wedding faith and marriage boosts both. Marriage and religiosity are both in decline. But improving rates of one can help raise the other (Deseret News)
Barricaded siblings turn to TikTok while defying court order to return to father they say abused them (Salt Lake Tribune)
Health
Black Physicians of Utah encourages people to look beyond BMI in health assessment (Fox13)
National Headlines
General
Politics
Ukraine 🇺🇦
World
Number of the Day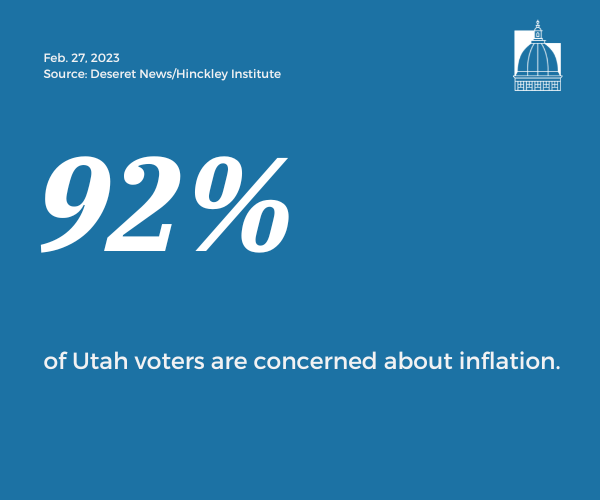 On This Day In History
1693 - The first issue of the Ladies' Mercury was published in London, the first periodical published exclusively for women.
1827 - Masked and costumed students dance through the streets of New Orleans, Louisiana, marking the beginning of the city's famous Mardi Gras celebrations.
1860 - Matthew Brady photographs presidential candidate Abraham Lincoln, the first candidate ever photographed.
1872 - Charlotte Ray graduates from Howard Law School and becomes the first Black female lawyer in the US.
1890 - Mabel Staupers is born. A graduate of Freedman's Hospital of Nursing (now Howard University) in 1917, she led the Harlem Committee of the New York Tuberculosis and Health Association and was instrumental in ending the US Army's policy of excluding Black nurses in WWII.
1922 - U.S. Supreme Court upholds the 19th Amendment to the Constitution, which guarantees women the right to vote.
1951 - The states ratified the 22nd Amendment, creating term limits for presidents.
1956 - Meena Keshwar Kamal is born. As a student in 1977, she founded the Revolutionary Association of the Women of Afghanistan (RAWA), giving a voice to women fighting for human rights and social justice in Afghanistan. On February 4, 1987, Kamal was kidnapped and murdered.
1964 - The Italian government asks for suggestions for how to fix the Leaning Tower of Pisa.
1988 - Debi Thomas becomes the first Black athlete to win a medal at the Winter Olympic games when she won bronze in figure skating.
1998 - Britain's House of Lords agrees to end 1,000 years of male precedence by giving a monarch's first-born daughter the same claim to the throne as any first born son. Took 'em long enough.
2003 - Fred Rogers dies at age 74.
2010 - 8.8 earthquake hits Chile.
2015 - Leonard Nimoy dies at age 83.
2022 - Countries sanction Russia for its invasion of Ukraine; EU closes its airspace to Russian planes, Russian banks excluded from worldwide Swift payment system, Sweden sends arms to Ukraine
---
Heard on the Hill
"I am tired. I am tired physically, spiritually and mentally...I don't know what to tell my community anymore. I don't know how to make them feel safe anymore."
—Rep. Sandra Hollins, speaking against a bill that would prohibit universities from asking for diversity, equity and inclusion statements, as well as anti-racist or implicit bias statements.
---
On the Punny Side
My mom was a radiologist. She met my dad when he came in for an x-ray.
I wonder what she saw in him.
Subscribers may receive special messages with information about new features, special offers, or public policy messages from clients and advertisers.