With thanks to our sponsor

The Utah Policy newsletter is your one-stop source for political and policy-minded news. We scour the news so you don't have to! Send news tips or feedback to Holly Richardson at editor@utahpolicy.com.
Situational Analysis | March 28, 2023
Happy Tuesday - it's National Black Forest Cake Day. Super easy recipe: bake a chocolate cake, top with whipped topping and cherry pie filling. Voilà!
If you need to drive south on I-15 in Davis County this morning, you may want to wait to drive in: a rollover crash has traffic backed up nearly 8 miles.
What You Need to Know
A school shooter at a Christian private school in Nashville killed 3 students and 3 adults before police killed the shooter. The shooter had a detailed map, a manifesto and had conducted surveillance of the building and was a former student who was transitioning from female to male. The head of the school and the daughter of the church's pastor are among the dead. Governor Cox has ordered all US and Utah flags to be lowered to half-staff.


Mike Bird has withdrawn from the race for GOP chair, leaving Rob Axson as the sole candidate and the presumptive new chair after the state convention.


In 1935, a young teen killed herself after getting her first period. Chad Varah, who officiated her burial and later became a priest, vowed that no one would be left in the dark about menstruation. In 1953, he launched the Samaritans, one of the world's first suicide hotlines. Now, 88 years later, a bill being proposed in Florida would ban girls from learning - or even talking about - their menstrual cycles before 6th grade. Average age of menarche, or the onset of one's period is 8-16. Eight-year-olds are typically in third grade.
Rapid Roundup

Waterwise is Always in Style
Epic winter snow has created a big summer opportunity, and keeping our outdoor water use low is more important than ever. Everything we don't put on our yards helps repair the Great Salt Lake and builds our statewide water storage. Click here for resources to help be waterwise.
This message is brought to you from Central Utah, Jordan Valley, Washington County, and Weber Basin Water Conservancy Districts.
Utah Headlines
Political news
General Utah news
Business
Culture
Environment
Health
Housing
National Headlines
General
Politics
Ukraine 🇺🇦
World
News Release
Romney joins Cassidy, colleagues in introducing measure to overturn Biden's reckless student loan schemes
U.S. Senator Mitt Romney (R-UT) joined 36 of his Republican colleagues, led by Senator Bill Cassidy, M.D. (R-LA), Ranking Member of the Senate Health, Education, Labor, and Pensions (HELP) Committee, in introducing a Congressional Review Act (CRA) resolution to overturn President Biden's student loan cancelation scheme, which would transfer up to $20,000 in student loan debt per borrower onto taxpayers, costing an estimated $400 billion. The CRA would also end the pause on student loan payments, which costs taxpayers $5 billion a month and has been extended six times under the Biden Administration, far beyond the original pandemic justification. The pause will have cost Americans a total of $195 billion by the time the most recent Biden extension is set to expire in August of 2023. On March 17th, the Government Accountability Office (GAO) announced that President Biden's student loan policy is classified as a rule and is eligible to be overturned under the CRA. (Read More)
---
Sen. Lee fights central bank digital currency
Sen. Mike Lee (R-UT) reintroduced legislation to prevent the Federal Reserve from reshaping the U.S. financial sector and having the ability to monitor consumer transactions. The Fed, with encouragement from the Biden Administration, has begun to develop a central bank digital currency (CBDC), a digital asset, minted, issued, and controlled by them, that would alter the ability of financial institutions to function as lenders, while giving the federal government knowledge of every purchase that uses a CBDC. Financial institutions could no longer offer loans – or at the very least would be significantly restricted in doing so – since they would bear no risk for a deposit; they would function merely as wallets, holders of a CBDC – and as such, could not extend deposits to prospective borrowers in the form of loans. Lastly, the Federal Reserve would have knowledge of every transaction involving a CBDC; if it maintains the technology to create and operate a CBDC, it will know how it is used. (Read More)
---
Sen. Lee introduces bills to improve U.S. aviation industry
Sen. Mike Lee (R-UT) introduced three bills to improve and encourage innovation in the U.S. aviation industry: the Aviation Empowerment Act, the Screening Partnership Reform Act, and the Air Traffic Control Safe Operations and Readiness Act. (Read More)
Number of the Day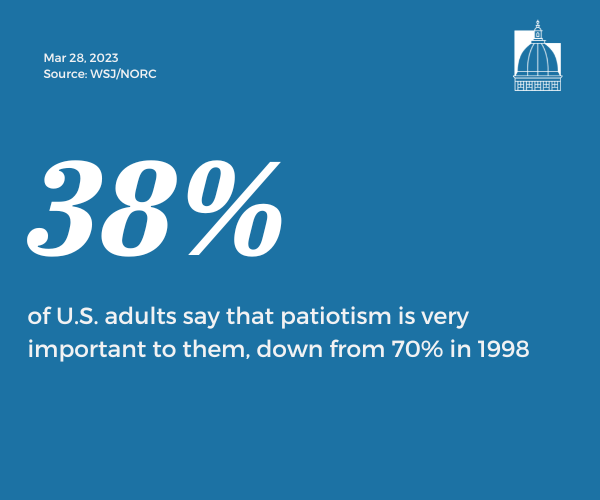 Upcoming
Honoring Women's History, Investing In Our Future with Zions Bank — March 30, 12:00-1:00 pm via Zoom. Register here

YWCA Utah Legislative Recap

— Mar 31, 5:00-7:00 pm, Register here
Advancing Women Through "Developmental Relationships": A Dialogue with Global Experts with the Utah Women and Leadership Project — April 4, 12:00 pm-1:15 pm, Register here
UVU Conference on Domestic Violence — April 14, 9:00 am-4:00 pm, Register here
Hatch Foundation Gala with special guest Sen. Mitch McConnell and Sec. Elaine Chao — April 14, 7:00 pm, Grand America, Register Here

Teen Girls Experiencing Increased Sadness and Violence

with Utah Women and Leadership Project — April 25, 12:00-1:15 pm via Zoom, Register here
United Utah Party State Convention — April 29, 10:00 am-12:00 pm, Lehi High School with keynote speakers Teri McCabe and Jay Mcfarland
Mount Liberty College Spring Youth Seminar

on

The Virginian — May 6, 9 am-7 pm, Register Here
On This Day In History
1774 - British Parliament adopts the Coercive Acts in response to the Boston Tea Party
1834 - President Andrew Jackson is censured by Congress for refusing to turn over documents. Jackson was the first president to suffer this formal disapproval from Congress.
1885 - US Salvation Army officially organized
1886 - Clara Lemlich is born. A Jewish immigrant from the Ukraine, labor activist, suffragist, and consumer advocate, she was a leader of the "Uprising of 20,000," a labor strike of shirtwaist workers in New York's garment industry in 1909.
1895 - Spencer W. Kimball, 12th president of The Church of Jesus-Christ of Latter-day Saints, is born in Salt Lake City, Utah
1899 - Harold B. Lee, 11th president of The Church of Jesus Christ of Latter-day Saints is born in Clifton, Idaho
1930 - Turkish cities Constantinople and Angora change their names to Istanbul and Ankara
1949 - British mathematician and astronomer, Fred Hoyle, coined the term "big bang" in an attempt to dispute the theory that all matter was created from one giant explosion.
1969 - Dwight D. Eisenhower, 34th US President (R, 1953-61) and WWII general, dies of congestive heart failure at 78.
1972 - Senator Barbara Jordan becomes the first Black woman to preside over a US legislature when she was elected president pro tem of the Texas Senate
1979 - America's worst nuclear accident occurs at Three Mile Island when a pressure valve in the Unit-2 reactor fails to close. On April 1, President Jimmy Carter arrived at Three Mile Island to inspect the plant. Carter, a trained nuclear engineer, had helped dismantle a damaged Canadian nuclear reactor while serving in the U.S. Navy. His visit achieved its aim of calming local residents and the nation.
1990 - US President George H. W. Bush posthumously awards Jesse Owens the Congressional Gold Medal
2020 - US President Donald Trump makes projection that 240,000 American could die from COVID-19, even with restrictions in place
---
Quote of the Day
"Not every day is good, but there is something good in every day."
—Alice Morse Earl
---
On the Punny Side
Why do coffee cups avoid the city?
They're afraid to get mugged.
Subscribers may receive special messages with information about new features, special offers, or public policy messages from clients and advertisers.