The Utah Policy newsletter is your one-stop source for political and policy-minded news. We scour the news so you don't have to! Send news tips or feedback to Holly Richardson at editor@utahpolicy.com.
Situational Analysis | July 12, 2023
It's Wednesday and Etch-A-Sketch Day. Sadly, I have no Buddy the Elf skills. But, it's also Amazon Prime Day and I definitely have ordering skills.
What You Need to Know
Multiple graves of Indigenous children have been found at the former Panguitch Indian Boarding School, in operation from 1904-1909. Today only a single building remains of the former school, which is now the site of a USU-operated research farm. However, during its five years of operation, nearly 150 Paiute children, some as young as 2 and 3, were taken to the federally overseen school. In a joint statement, the Paiute Indian Tribe of Utah and its five sovereign bands expressed sorrow at finding the graves and at the practice that stripped children of their Native language, culture and heritage. "These children were taken from their families at very young ages, were not permitted to communicate in the only language they had ever known and were forced into manual labor to maintain the facility," they write. "Our tear will fall as we sing for you."


Speaker Brad Wilson says he is still exploring a run for US Senate next year, but filed as an official candidate in April. He has raised more than $2 million and the Federal Elections Commission requires that a person file as a candidate if their exploratory committee raises more than $5000. If support continues, the "likelihood of us launching a full campaign is extremely high." If he doesn't run, he says everyone who's donated to his exploratory committee will be fully refunded.
Rapid Relevance
Get tickets for the Utah Days of '47 Rodeo for some country fun from July 19th-22nd, 24th.
This summer, experience the wild west without wandering too far from home. Whether you're a Salt Lake downtowner or a tiny hometowner, come to the Utah State Fairpark for live music, food, and family fun. Join us July 19th-22nd and the 24th for the Utah Days of '47 Rodeo.
Utah Headlines
Political news
Election news
General Utah news
Business
Culture
Education
Environment
Health
Housing
National Headlines
General
Politics
Ukraine 🇺🇦
World
Number of the Day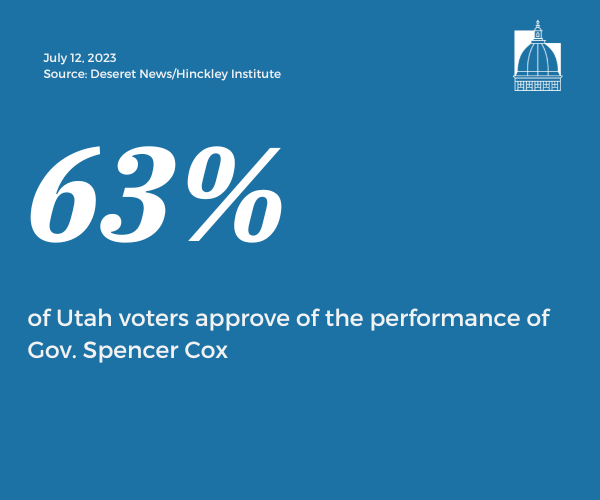 News Releases
First-time Homebuyers Assistance Program applications available starting July 11
Qualified applicants can apply for The First-time Homebuyers Assistance Program starting Tuesday, July 11, 2023. Funding will be made available to Utahns on or after July 25 and will help individuals and families receive a loan of up to $20,000 to buy down interest rates, apply funds towards a down payment or pay closing costs on a first home. (Read More)
---
Romney, Hickenlooper introduce seven-year extension of fish recovery programs
U.S. Senators Mitt Romney (R-UT) and John Hickenlooper (D-CO) today introduced the Upper Colorado and San Juan River Basins Endangered Fish Recovery Programs Reauthorization Act. The bill extends the Upper Colorado River Endangered Fish Recovery Program and San Juan River Basin Recovery Implementation Program for seven years, which, combined, protect four threatened and endangered native fish species in the Upper Colorado and San Juan River Basins. The bill is also cosponsored by Senators Bennet (D-CO), Lujan (D-NM), and Heinrich (D-NM). The legislation builds on the success of Romney and Hickenlooper's Upper Colorado and San Juan River Basins Recovery Act in the 117th Congress, which provided a one year extension for the programs and passed into law with the annual budget last December. (Read More)
Upcoming
Legislative School Security Task Force — July 17, 2:00 pm, le.utah.gov
Legislative Court Reform Task Force — July 19, 1:00 pm, le.utah.gov
Senate Judicial Confirmation Committee — July 27, 11:00 am. le.utah.gov
Interim Days — Aug 7-10, le.utah.gov
Municipal election filing period for cities using ranked choice voting — Aug. 8-15

'Titan of Public Service' gala

recognizing Senator

Mitch McConnell

and former Transportation and Labor Secretary

Elaine Chao

, hosted by the Orrin G. Hatch Foundation — Aug. 22, 7 p.m., Register here
Legislative Education and Mental Health Coordinating Council — Aug 23, le.utah.gov
Municipal/Special election primary — Sept. 5
Interim Day — Sept. 18, Utah Tech University, le.utah.gov
Interim Day — Oct 10-11, le.utah.gov
Interim Day — Nov 14-15, le.utah.gov
General election — Nov. 21
On This Day In History
1389 - Geoffrey Chaucer is named chief clerk to the king by Richard II
1849 - Dolley Madison dies. She was the 4th First Lady of the United States
1862 - President Abraham Lincoln signs a law that creates the Medal of Honor
1909 - 16th Amendment (income tax) was passed by congress
1984 - Geraldine Ferraro named vice presidential candidate, the first woman to be named on a major political ticket
1990 - Boris Yeltsin quits the Soviet Communist Party
1997 - Malala Yousafzai is born. She is a Pakistani activist for female education and the youngest Nobel Prize laureate known for human rights advocacy, especially the education of women and children in her native Swat Valley in Khyber Pakhtunkhwa, northwest Pakistan, where the local Taliban had at times banned girls from attending school. In 2012, they shot her in the head for teaching other girls to read.
2013 - Malala Yousafzai addresses the United Nations and calls for worldwide access to education
2022 - Twitter sues Elon Musk after he pulls out of a deal to buy the social media site, accusing him of "trashing it" and "a model of bad faith." Not sure making Musk follow through on the deal worked out for Twitter….
---
Quote of the Day
"I raise up my voice-not so I can shout but so that those without a voice can be heard...we cannot succeed when half of us are held back."
― Malala Yousafzai
---
On the Punny Side
Why couldn't the jalapeño practice archery?
Because it didn't habanero 🌶️
Subscribers may receive special messages with information about new features, special offers, or public policy messages from clients and advertisers.